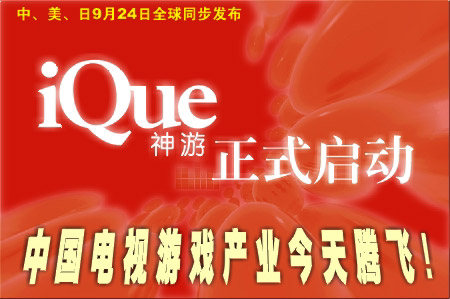 iQue's Official Launch
-China's TV Game Industry Soars From Today!
Source
Published: September 24th, 2003, Official iQue Press Release
 (Report on September 24th from China, Japan, and the USA)
 TV games have been acclaimed as "The Ninth Art", after Literature, Painting, Sculpture, Architecture, Music, Dance, Drama, and Film. They are the outstanding products of contemporary civilization, and further more, the iconic product of modern family entertainment. They have an unquestionable economic potential, as statistics show that the annual output value of the world TV game industry exceeding US$ 20 Billion, surpassing that of the film industry in the same period. Further more, the game industry has been rapidly growing in the past few years at a two-digit annual growth rare, and has long become a crucial part of national economy in some developed countries. Unfortunately, due to reasons such as piracy and imports, the Chinese TV game industry had been unable to launch normally in the past couple of years, and the Chinese had almost no chances of enjoying the cultural wealth of all humanity.
 Now, this situation is about to change. On September 24th, 2003, the game console from China's iQue Ltd will soon meet with the Chinese consumers, with a large number of world-class Chinese games coming to the stores in succession. At the same time, another strategic plan of iQue is proceeding in order. iQue Ltd, along with the world game industry pioneer, Nintendo Ltd, made a joint announcement that the world-class TV game industry has officially launched in China. A series of "iQue" branded family 3-Dimensional TV game console, integrated with the world's top graphics processing technology, upgradable operating sytem, and internet capabilities, as well as high-performance video game products developed in collaboration from China, U.S., Japan or even those independently developed in China, will soon make their debut in the global mainstream video game market.
 It is reported that iQue was founded as video game and smart technology company, from the reciprocal investment from U.S. and Japan in 2002, a joint venture from an outstanding Chinese representative of America's science community and management community, Dr. Wei Yen, and Nintendo of Japan. The invenstement consists of assets including funds, technology, patents, and software copyright, and investment on the scale of Nintendo's investment in the North American market. From this day, China will become the third country with a complete TV game industry chain, following the United States and Japan. The founding of iQue will no doubt provide an ideal platform for the Chinese software industry to take advantage of, which is currently in a stage of linger; at the same time, iQue will uphold the style of "Healthy, All-ages, and Excellent" games, and from there, become an industry-leading company with social responsibility. This long-term business standard of iQue gained the company high praise and strong support from the Chinese government.
 iQue Ltd Department of Public Relations
 Email: PR@iQue.com
 Tel: (86-512)62883599
 Fax: (86-512)62882980
~ THE END ~